About the author of the course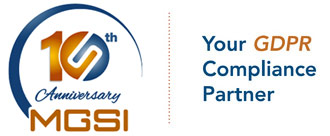 Based on its expertise in data protection as well as in information security and its experience from different industries, MGSI has developed specific trainings tailored to your needs.
Are you interested in organising training sessions within your company or on specific topics?
Do not hesitate to contact us to create your customized training.
Learn more about MGSI.
Who should attend this course?
This course is intended for all employees in the private or public sector:
C-level management.
Managers (HR, IT, Marketing, and more) & legal advisors.
All staff working with consumer data.
Why should I attend this course?
The GDPR applies directly throughout Europe since 25/05/2018 and harmonizes legislation at the European level. It also applies outside the borders of the European Union to companies who provide goods or services to anyone located within the EU (SaaS, e-commerce website, etc.).
The GDPR has established a system of financial sanctions. These financial sanctions range from 10 million euros to 20 million euros or from 2% to 4% of the company's annual global turnover. Other sanctions may relate to the activity itself, such as the cessation of processing.
An important element of the GDPR is that it is mandatory for any company subject to the GDPR to properly train its employees who process personal data.
Moreover, given that the majority of data breaches are due to human error, training is one of the most effective ways to reduce these violations. Train your employees by enrolling them in our e-learning training now!
What's included?
An interactive module that lasts about 1 hour in total: 45–50 minutes plus 10 minutes for the knowledge check (10 questions).
Key references on data protection (guidelines, opinions, etc.)
Train at your own pace! Licence to access to the e-learning module when you want and as many times as you want for 6 months.
Certificate of completion.
This course is currently available in English and in French. Other languages will be added shortly. For information regarding the release of the new courses or languages, please subscribe to our newsletter.
Principal Objectives
The principal objectives of this online GDPR course include:
Defining all key concepts relating to European data Protection
Recognizing the key obligations for compliance, including the rights of data subjects and procedures for the notification of any data breaches
Recognizing the principals involved for personal data protection
The following concepts will be defined:
Legal framework in Europe
Data Protection Timeline
General Data Protection Regulation (GDPR) introduction and key elements
Scope of General Data Protection Regulation (GDPR)
Definition of personal data, including special categories of data and processing activities
Stakeholders of the GDPR (controller, processor, data subjects, etc.)
Principles of data protection
Rights, obligations and duties of stakeholders
Checking Your Knowledge
At the end of the course, there will be a knowledge check to ensure you have understood all the information provided. There are 10 questions which are drawn at random from a substantial question bank. To pass the check you will need to achieve 80% or above. You will have unlimited attempts, but each attempt will involve a new set of questions.
Length of Course
The course lasts about 1 hour in total: 45–50 minutes plus 10 minutes for the knowledge check.
Certification
On successful completion of the course and the knowledge check, you will receive a pdf certificate.
Licences
Purchase of a single user licence gives access to the entire course content for six months on our CLeS e-learning platform.
Manage your own instance
We can create a leader account allowing you to manage your group's training. Access 5 types of reports to view progress and quiz results by user, by group and by course.
If multiple licences are purchased, an administrator can be nominated who can access and download:
Detailed reports showing users course completion data in Excel format
Copies of certificate of completion
Optional Course Customization
If required, the course can be customized to fulfil the following:
Your websites branding
Branded certificates
Extra course material to cover your company's specific data protection policies and procedures